I'm devastated to share that my sweet Madison has passed away. She was ten and a half years old and had been fighting a terminal form of brain cancer. In perfect Maddie style, she retained her lifelong puppy personality and went both quickly and on her own terms.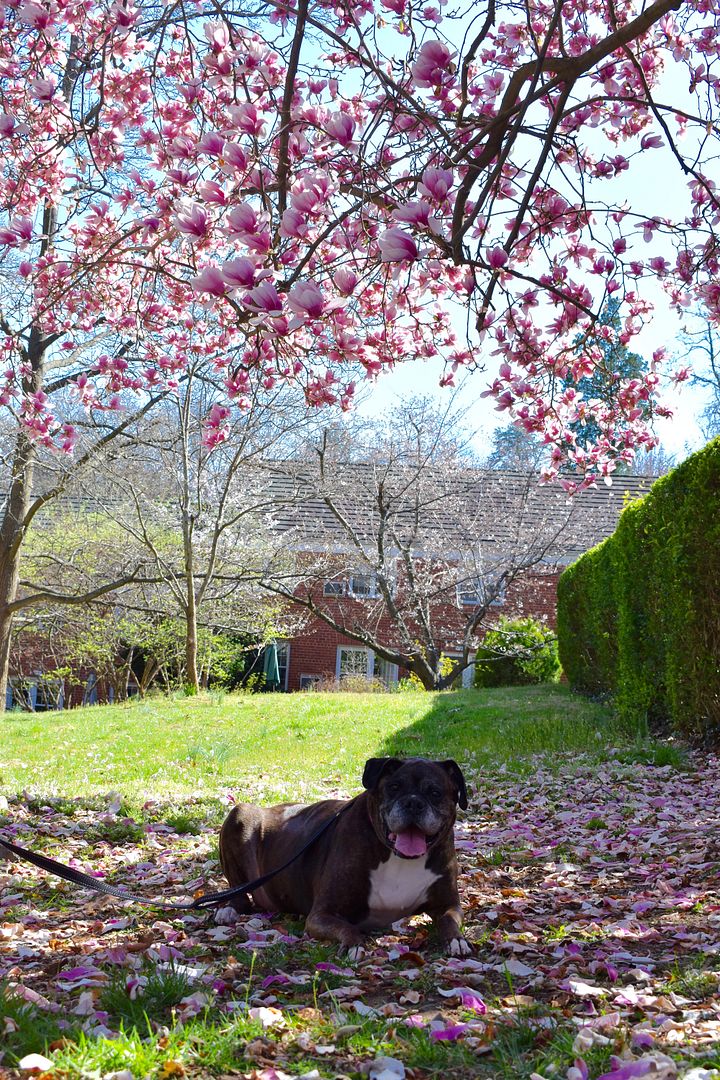 There was no prolonged suffering, no total bodily breakdown, and no apparent awareness on her part of the disease that ultimately took her from me. Madison gave absolutely everything she had until it was time to go. It's exactly what I would have expected from her. Yet the void her absence leaves is indescribable.
Sweet Maddiecakes had a truly larger than life personality. My world is eerily quiet and far less exciting without her, and adjusting to this reality–especially during a quarantine–seems impossible. She has to be just around the corner, about to jump in circles at the sight of my presence. And yet she's …. not.
It's a cliche trope, but nonetheless true that dogs are a part of our family, and the bond I shared with Madison was extra special. If you've ever had the pleasure of loving a boxer, you know how utterly loyal and absolutely sweet they are. Madison had every boxer tendency, including the hyperactivity, in spades. And man, was that dog absolutely devoted to me.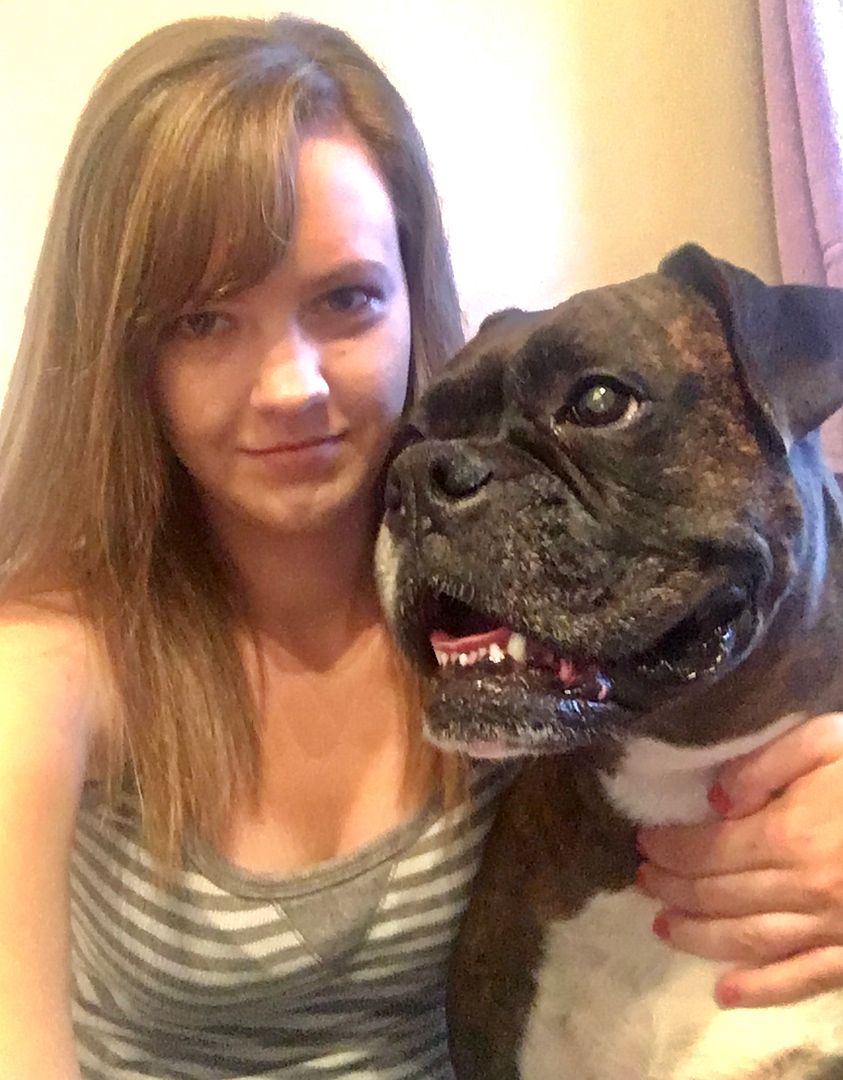 I got Madison just a couple of months after I graduated from college. My ex and I were living in a beach town south of Boston, and Madison was part of a litter of boxers born on August 28, 2009, in Warwick, Rhode Island. So we took the drive down. When we arrived, the cute reverse brindle pup with the white chest and black face was ready to go home with us. And so it was.
The first thing Madison ever did, as she sat in my lap on a blanket in the car, was pee on me. Not that I minded! I loved her instantly, and we spent the first several months of her life completely inseparable. In retrospect, I probably helped foster some of her separation anxiety during that time period, but she was my first dog, I didn't know quite what I was doing, and I had the flexibility to bring her almost everywhere with me, including the headquarters of the campaign I was working on at the time.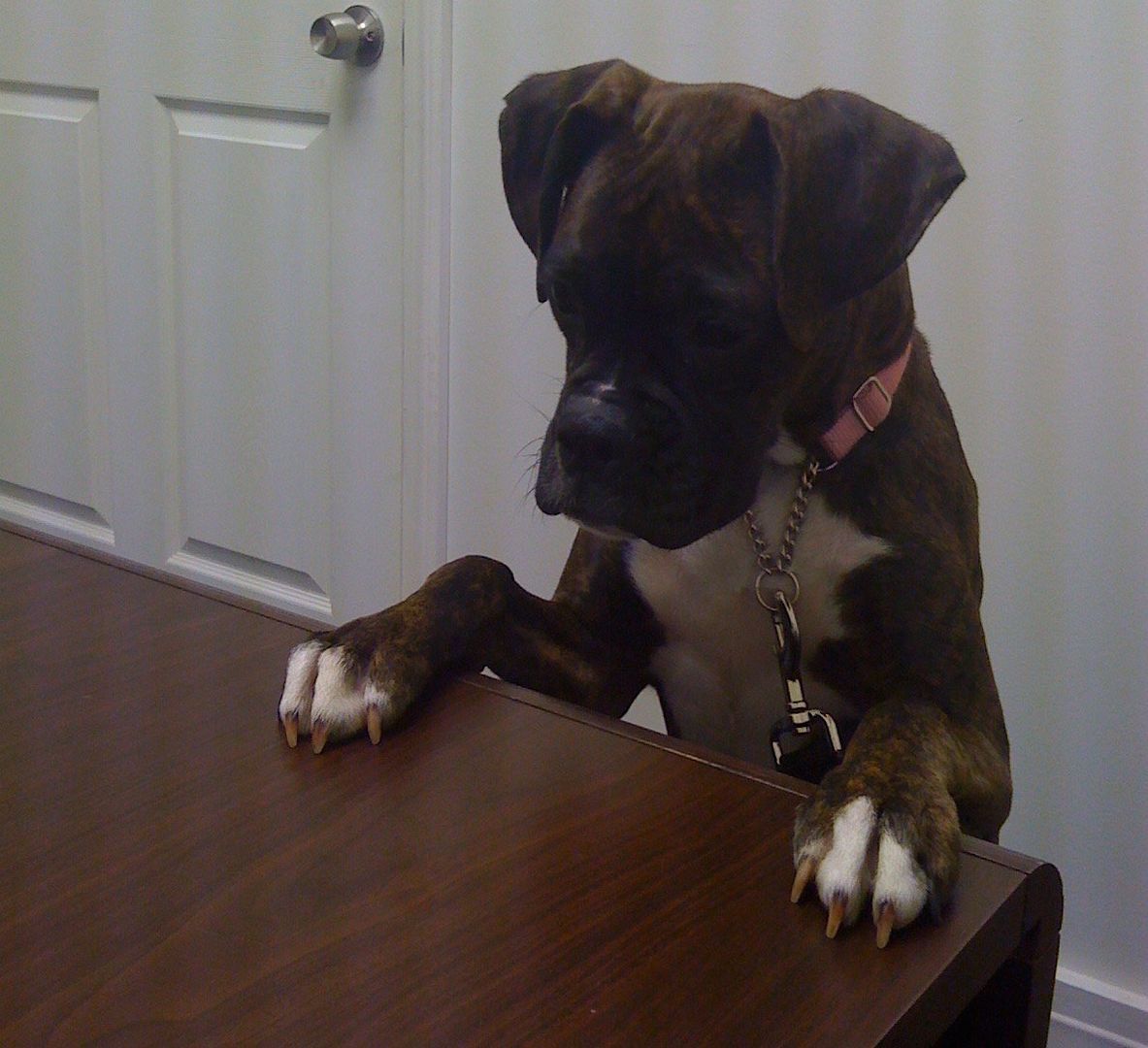 Some of my all-time favorite pictures of Madison are ones I took of her as a little pup during her first summer when she discovered large bodies of water. She was never much of a swimmer—unless it was to fetch a tennis ball with which she was obsessed—but I will always love these particular photos. The one of her jumping in the bay captures the personality she retained throughout her life.
Just a month before Madison turned one, she moved with us to Houston, which is ultimately where she spent the majority of her life. In 2012, I realized that my, shall we say, over-protective Madison would do well to spend more time with other dogs. Given that I worked from home, I started to volunteer with and ultimately serve as a foster for the Houston Boxer rescue.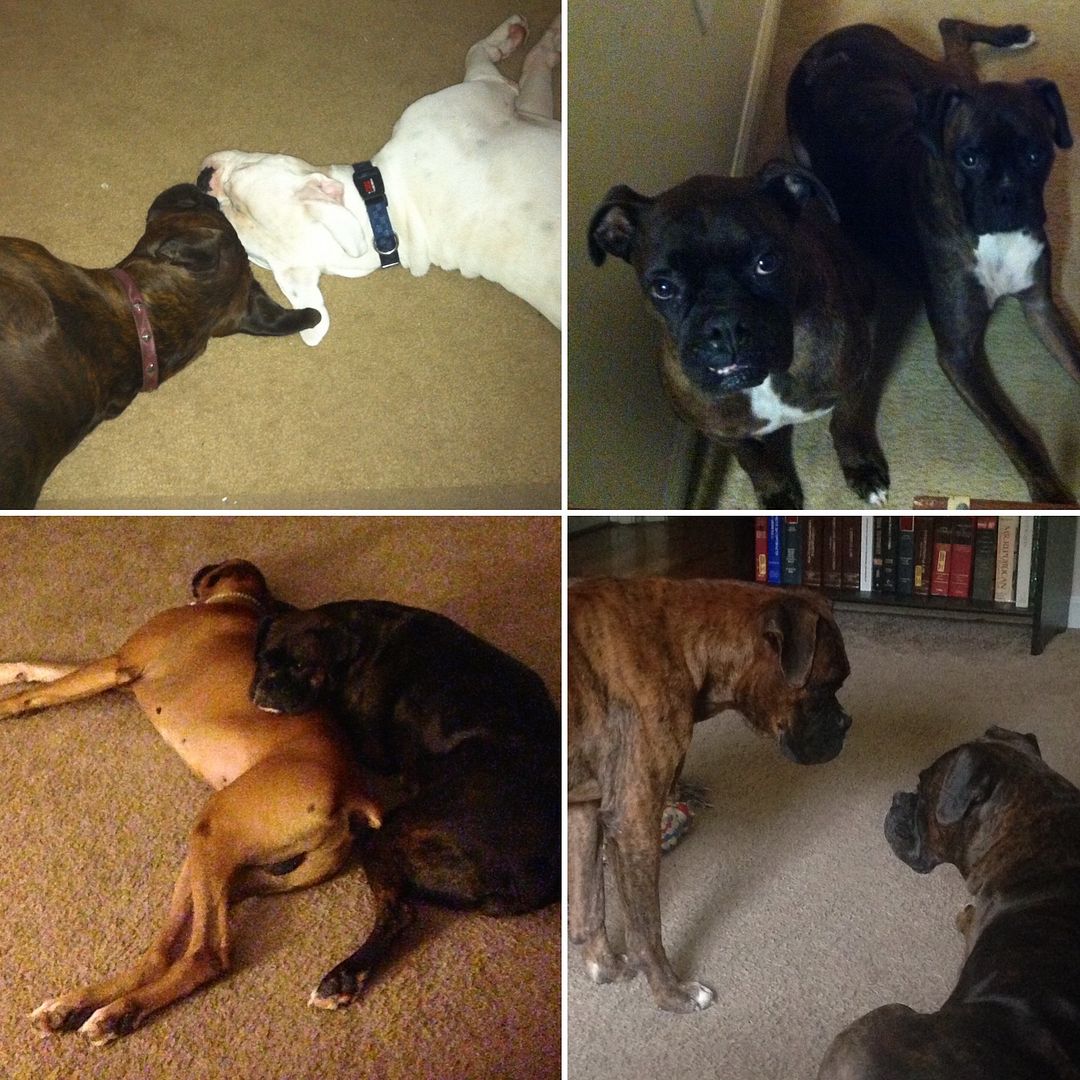 Madison began to form bonds with these sweet dogs, which I think in turn made her better, and the work solidified my love for this absolutely wonderful breed. There were a few instances when I nearly became a "foster failure," but was ultimately concerned that two boxers was more energy than I could handle. Enter Maddie's brother Little Bit, who became part of my family in February of 2013.
Bit is a sweet ranch dog—a pit-and-whatever-mix common to the Houston area—and like me, he's confused and saddened by Madison's absence. They were a perfect bonded pair, largely because of their differences.
Bit's mellow and would happily spend all day lying in the sun with an occasional chasing of the squirrels. All Madison really wanted was me. And treats. And her rope. And a ball … that she'd inevitably chase until it was under the couch. Waiting for the Roomba to unearth one of her many missing toys was a pastime of particular interest to Maddie, and one she engaged in happily just days before she passed.

What was so remarkable about Madison is how present she was in all moments. Some dogs are particularly attuned to the emotions of humans, and Maddie had an intuitive empathy like no other. She came into my life a few months before I turned 23 and passed a few weeks after my 33rd birthday. Those are especially formative years, and Madison got me through some particularly difficult challenges.
2016 was a year of both personal and professional upheaval for me, and I spent a good bit of the first half of that year on a pullout couch bed, half-functioning. Madison was my support system, curling up with me when I was sad, and licking my tears away when I cried. It's hard to imagine a more loving and genuinely caring animal.
And you could truly see it in her eyes.
Ultimately, Madison lived to make sure I was protected in every way, sometimes to the extreme, but always with the best of intentions. Often, though, this tendency of hers was more hilarious than anything else. Like the time she barked at a larger-than-life statue of a baseball player swinging a bat. Yes, she literally howled at a statue because she thought it was trying to hurt me. Just a couple of months ago, she repeated this … unique behavior in a different context … and I was able to capture it on video!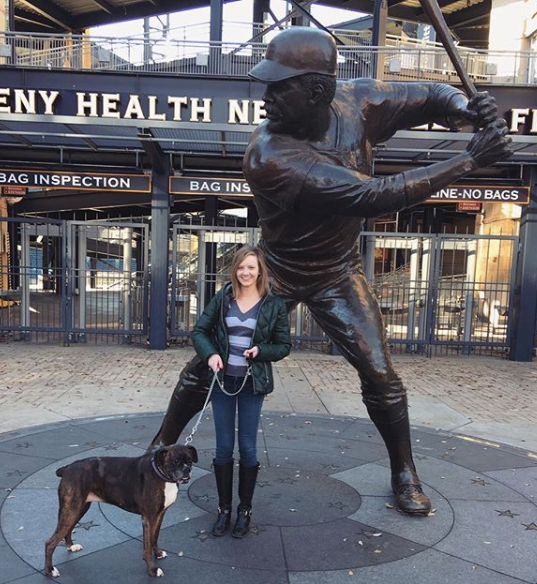 As I adjust to my new reality without her, it feels impossible that I won't think of her every single day. Maddie boo has been with me through a whole decade, seven moves, two mortgages, more career changes than I want to count, and, perhaps most importantly, my marriage to Kenny. My husband's acceptance of an admittedly psychotic (but sweet!) dog who drooled all over everything—and in her last year-or-so peed on more than I'd like to recall—has meant everything to me. He loved her too, and was by her side with me and Bit when she passed.
Goodbye to the doggo pup with a stomach of steel (she once ate a cactus), a heart of gold, and the strength to live life entirely on her terms until she went as peacefully as one could hope for. I'll love you forever, baby girl (and will probably cry every time I see a boxer). Thank you for being my constant shadow, my biggest fan, and my best friend.